long time no post. I've a couple of topics on my backlog but simply too few hours to properly put them here, what a pity. Now, one topic i'd like to share is something i've been experimenting with for about a year: Everyday carry or EDC - stuff which you drag around almost every minute of your day. There are lots of approaches as there are unlimited personas and priorities. Certainly mine may not be relevant for everyone else, but i'm quite sure someone will find it useful.
My priority on EDC is utility and simplicity. I dislike the idea of carrying a lot of items where i might only use a subset. Looking at my day-to-day carry, i came up with a very unsurprising list:
Keys
Phone
Creditcard
Other cards, cash, USB storage
Keys
I started collecting all kinds of keys i would eventually need - and not surprisingly i ended up carrying 20 keys all the time. Janitor style. The drawback is obvious: keys are clunky, loud and uncomfortable to sit with. I iterated to split my keys for use-cases like "work", "home" and "other" by adding them to individual keyrings that i could connect using carabiners. It eased the problem but of course was just a nice solution for a unnecessary problem. Next iteration were keyholders. I started with the "Carbocage Keycage" and reduced the number of keys to fit the keyholder.
Keycage came out of a long list of more or less successful (Kickstarter) projects that aim to provide a good solution for key carrying. I reviewed about 25 of those, there are nice ideas among them but the rather simple construction of Keycage matched my requirement. The product is a carbon fiber cage (hence the name) that uses long screws to connect and keep the keys in place. Keys can be organized by re-ordering them to nicely fit together. Keycage is nicely constructed, lightweight and good looking. However, a severe issue arrises when disassembling the keyholder to remove or add keys: Carbon and metal do not connect very well. After some assembling the nut loses friction with the carbon and there is basically no way to get your keys out of the holder other than destroying it, which turns out to be quite complicated due to the good construction.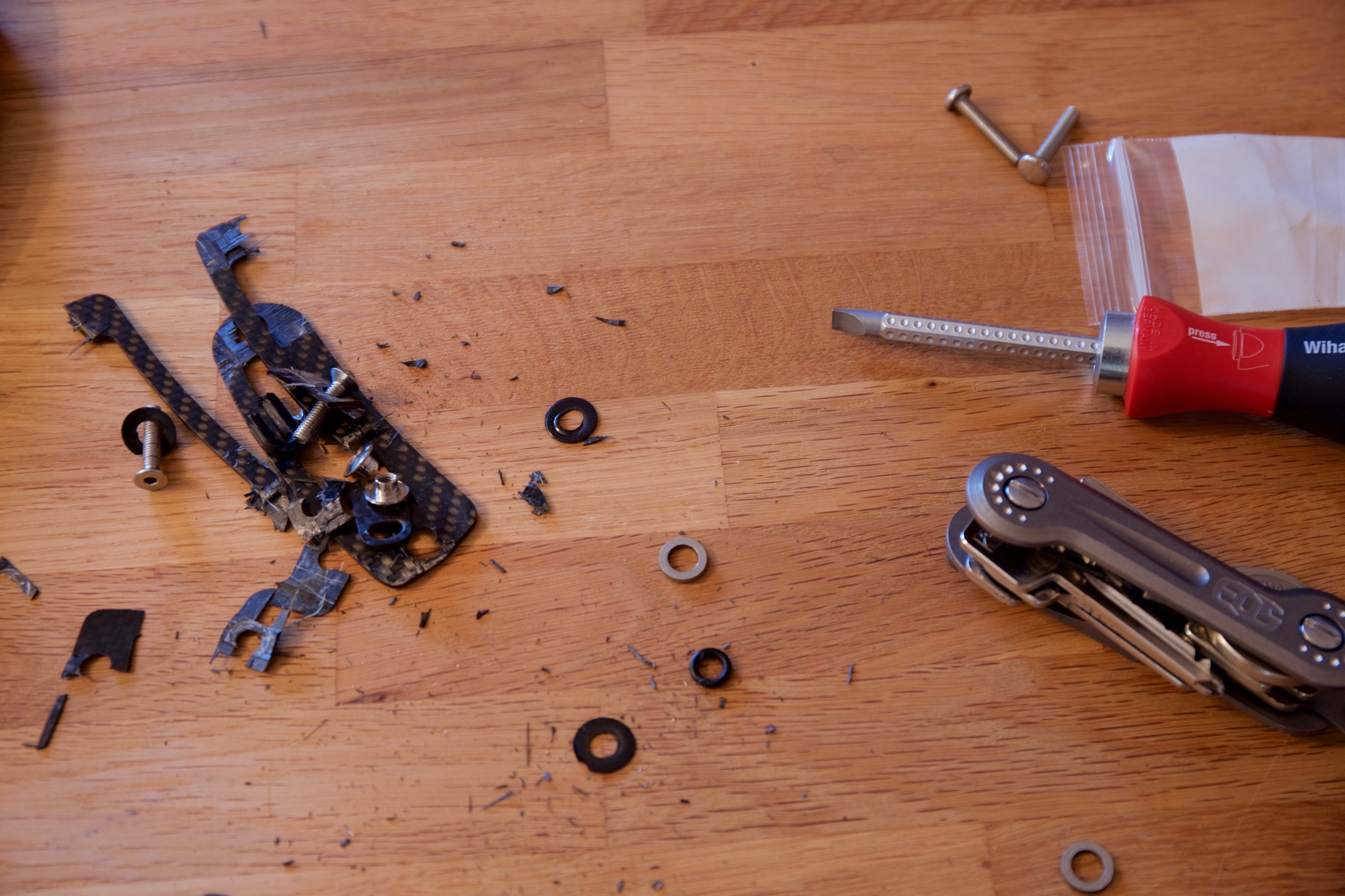 Next i went to "KeyBar", which was out of my scope due to availability aspects. It's clearly a heavy-duty product and comes with some nice color, material and finish options. I chose the Titanium model built by EOS. Pricing is steep but this thing is virtually indestructible and thoughtfully made, obviously at the cost of price and weight. I am delighted with the product though, it does exactly what it's expected to do and looks nice.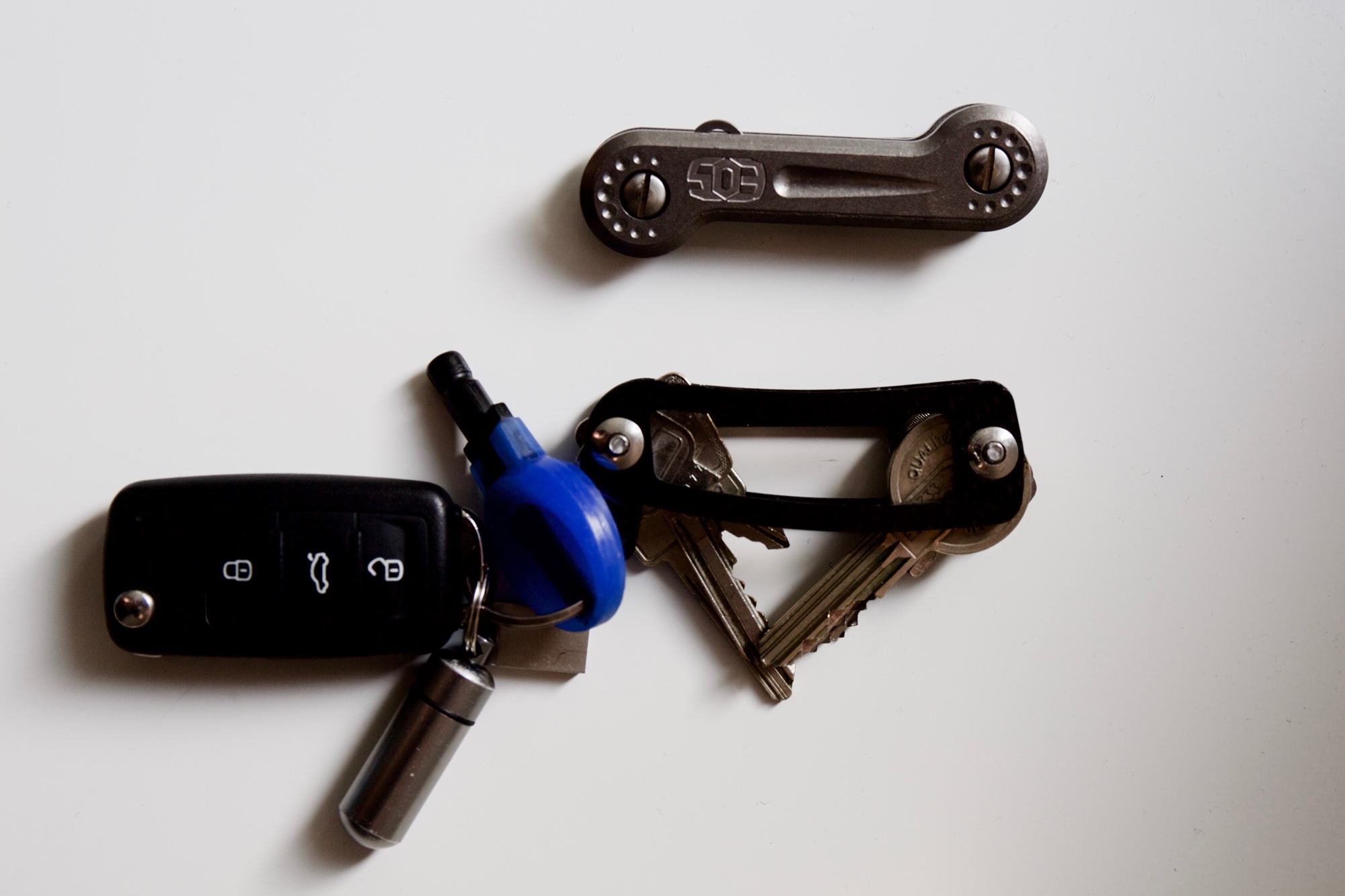 Phone
Considering myself as a mobile power user, i chose a iPhone SE for mobility, battery life, speed and accessibility. Even though having large hands that 10cm (4") screen works perfectly for me without taking too much space. Upgrading from a iPhone 5, i still like the design, dimensions and as usual the build quality has no equal.
With regards to case/bumper, i literally checked out hundreds of cases and came up with a Xcase case that allows access to one card, which happens to be a credit card as my primary payment options. Cash fits there as a alternative. It does its job terrifically well without adding clutter, thickness or costing a fortune. It certainly has not a spectacular look, which i like, but the utility of it is great. You can easily flip out the card with one hand. Note however that the card will wear off a bit more than usual by covering it with plastic and creating friction when sliding it out. Update: Just recently i had to re-purchase one and the quality got really bad, some parts of the case start to break after a few weeks already. Therefor is switched to a Ozaki O!coat+Pocket which follows the same concept but is much more flexible and less likely to break.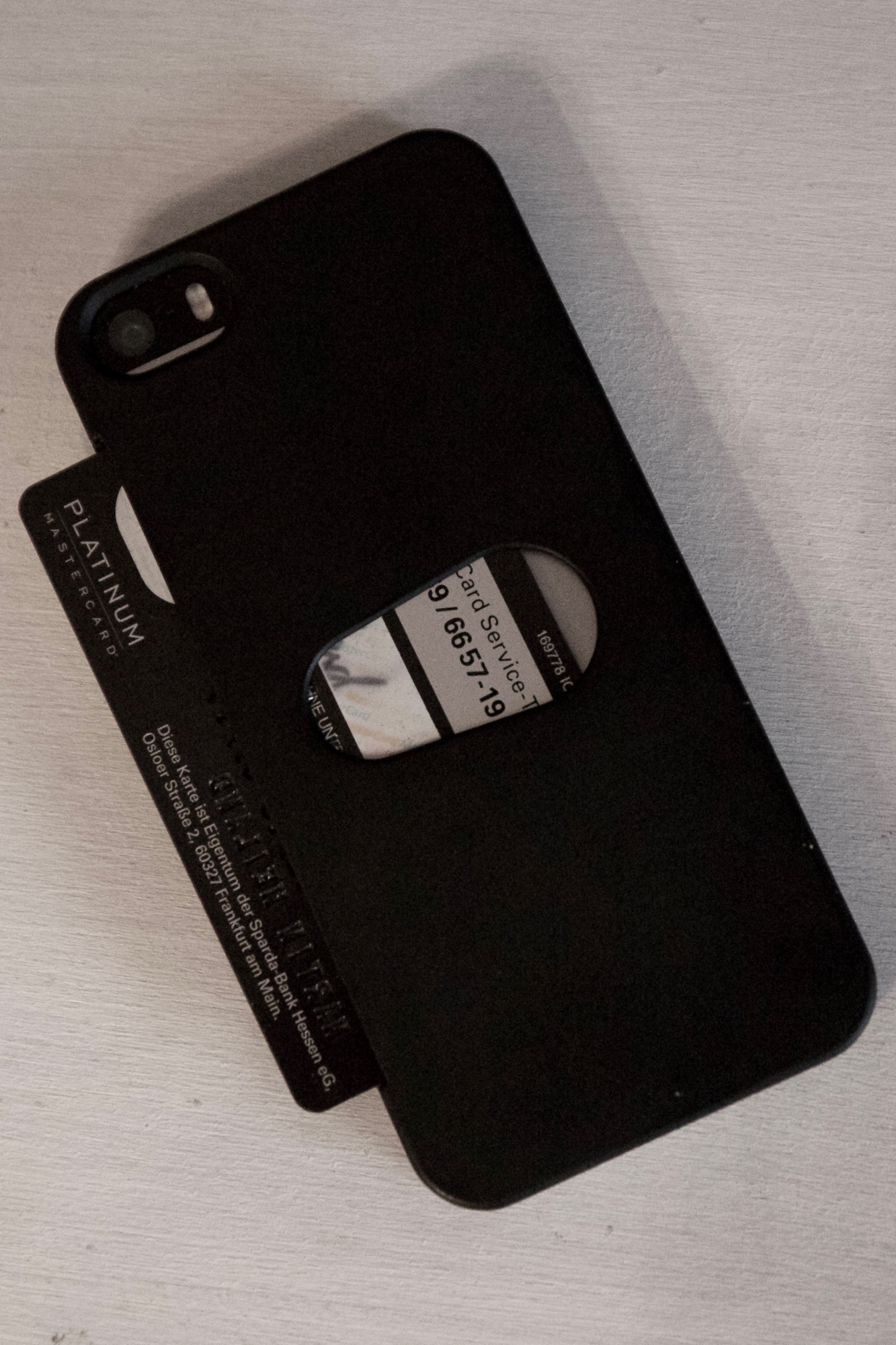 Cards & Cash & Storage
While i'm comfortable with carrying my phone and credit card most of the time, there are good reasons for carrying a couple more cards. For example health insurance, licenses, debit and access cards. I had several purses over time and got stuck with the Golden Head Colorado 1231-05-8 which sports a total of 21 slots for cards. I use 10-14 of those, which allows some spare space while keeping its profile low. For me its the optimal solution and boy is this thing done well.
To have some "emergency cash" with me all the time, i put a EUR note to a waterproof aluminum cash stash from True Utility "Cash stash" (TU241). While it might not survive 20 years at a keychain it certainly is reasonably well done and compact. For mobile storage i chose a 32GB JetFlash 710 "stick" from Transcend which comes with a nice metal enclosure and provides a lot of speed and capacity at a low price. Those items are connected to my keychain of course.